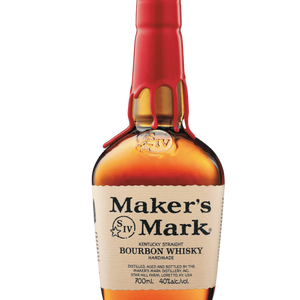 Maker's Mark Kentucky Straight Bourbon Whisky 700mL
Maker's Mark® Bourbon is distinct not only for its unique flavour, but its iconic bottle that is hand-dipped and sealed
in red wax. Maker's Mark bourbon whisky is smoother and less bitter than other bourbons because we use
winter wheat in the mash instead of the traditional distiller's rye. From the beginning, Maker's Mark set high
standards for handcraftsmanship and quality that remain the same today, over 50 years later.
Product specifications
Type-

American Whiskey

Size-

700mL

Region-

Kentucky

Current Vintage-

Makers Mark Bourbon

Standard Drinks-

22

Alcohol Volume-

40%

Country-

USA

Brand Name-

Maker's Mark

Closure-

Screw Cap

Spirit Style-

Bourbon